ATAKA team
A TEAM AT YOUR SERVICE, TO SHARE RUNS, BUT ALSO TO HANG OUT IN THE MOUNTAINS OR DRINK A COFEE
The Ataka Team was created by three men passionate about flying: Frank Coupat, David Eyraud, Frédéric Fugen and Yoan Castagnoli.
All qualified paragliding instructors with certificates in speedriding, paragliding and skiing. They have all the tools to guide you in the learning and improvement process.
Adapted lessons, focused on your level of flying, skiing, or physical capacities and your mental state: They are experts in the theory to coach you in your progression.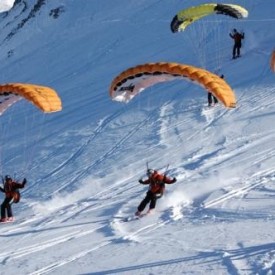 Our competitors instructors
Franck Coupat
Director of ATAKA school, pioneer in Speedriding, competitor, and test flyer. Paragliding and Speedriding Teacher. 3axes airplane instructor. Franky is the experience in teaching.
David Eyraud
Old coach of the French acro-paragliding national team (also called EL PRODIGIO) pioneer in Speedriding. Paragliding and Speedriding instructor.
Fred Fugen
A pioneer in Speedriding. Triple world champion in free flying, professional BASE jumper and RedBull athlete. Instructor in paragliding and Speedriding. Parachute instructor.
Yoan Castagnoli
Triple French champion in Speedriding, triple French champion in acro-paragliding. World champion on the French acro-paragliding team. National Instructor at USF, paragliding, an official French ski instructor, and Speedriding instructor.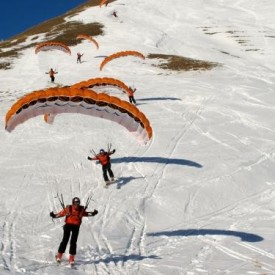 Our competitors
Nini
French champion in sportive paragliding in 2012, vice French champion in speedriding in 2011, airline pilot.
Nini can pilot anything, even a bin bag in flames!
Omar Zaïter
Vice-champion in Andorra (2012) official pilot for MUTANT wing.
Has also been crowned king of the 360 TOUCH BARELL.
French champion in 2014 and Andorra champion in 2014.
Filippo Fabbi
Leader of ARIA Team (sportive skydiving).
Hippo is on the 5 best speed riders in the world with his team mate Lucas Tondeli.
They currently form the prettiest free flying duo: ARIA TOUCH!
Lucas Tondeli
Team mate and sky brother, he competes with perfection in both skydiving and in speedriding with his team mate Hippo